Get your toddlers busy this Valentines and surprise someone special with one of these crafts for toddlers! Kidz Activities put together 5 toddler Valentine craft ideas which your little one can easily do…
1. Heart Stamps by Rust & Sunshine
This is probably one of the easiest and most cost efficient toddler Valentine craft idea ever! All you need is to recycle a toilet paper roll, a bit of tape and red paint! Check out how they did it at Rust & Sunshine.
2. Stuffed Hearts by Hands on: As we grow
This is a wonderful Valentine craft that makes use of your toddlers existing crafts. Cut them out into heart shapes, staple them together to make bags then stuff the hearts with little surprises – chocolates, perhaps? Get the step by step process from 'Hands on: As we grow'.
3. Toddler hand prints with a lovely poem by Kidz Activities
Kidz Activities created 5 Free Printable Valentines day craft templates, which you can access here. The size of your toddler's hand will forever be imprinted on this simple Valentine note. Definitely worth framing and looking back to when your child is older.
4. Easy Heart Suncatcher by Happiness is Homemade
This toddler Valentine craft involves sticking bits of paper and shapes onto clear contact – a skill that is easy enough for your toddler to do. Find out how to make it at Happiness is homemade.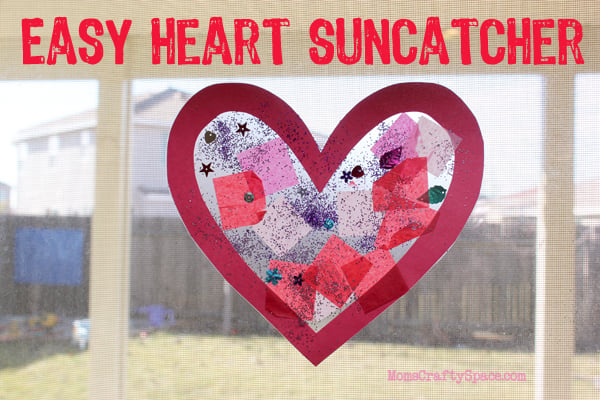 5. Simple Heart Craft by No Time for Flashcards
And yet another simple and clever craft that's easy enough for toddlers to make. This toddler Valentine craft makes use of coffee filters, pens and water droppers. No Time for Flashcards gives a step by step process on how to make this craft.
We hope this list gave your great ideas to keep your toddlers busy this Valentines season! Now time to start creating and crafting them.
If you liked these ideas, please Follow Kidz Activities on Pinterest and Like the Kidz Activities Facebook page to get more ideas of things to do with your kids!